My personal history.
I was born in Hilversum, Holland in 1953 and lived there for 24 years before migrating to Australia in early 1977.  Hilversum is 30 km southeast of Amsterdam.  Being the seventh of a musical family of twelve children, I always enjoyed listening to classical music and played the mouth harmonica at kindergarten age.  A little later I had singing lessons and sang in our local church choir.   By the time my voice broke, I channelled my musical interest in another direction.  I played the soprano saxophone and held the first seat in Holland's best known concert band for twelve years.  I also played in a small ensemble of ten men for pleasure.
Education
After completing primary school, I continued my education at technical school where I specialised in fitting and turning, carpentry and architecture.  I became a carpenter in the building trade rebuilding National Trust and heritage buildings as well as building new modern buildings.  The general atmosphere of the building industry and working in the harsh climatic conditions did not induce me to stay and hence searched for an alternative.  My father, a senior sound technician in the studios of "Radio Hilversum", suggested the piano trade to me.
In 1970 I became apprenticed as a piano technician-tuner and restorer with G.A.Goldschmeding in Amsterdam being Holland's most prestigious piano house.  The firm, established since 1872, had five branches throughout the country and employed some sixty full-time on-road tuners.  Amsterdam was head office and head workshop, and twelve full-time technicians/tuners and cabinet makers were employed there, of which I was one.  Every opportunity was given to me to learn the trade to its fullest extent and I became skilled in making soundboards, bridges and tuning pinblocks, cabinet making, French polishing, spinning copper-wound bass strings, action mechanism repairs, regulating grand and upright action mechanisms, tuning and voicing.
I was a keen and fast learner during my full-time employment and continued working most nights until very late, catching the last train home.  I was even able to spend my Saturdays and holidays working and learning as the workshop supervisor and caretaker lived next door.  During the same period, I also undertook a three-year evening course studying piano technology.
Kinderdijk Windmills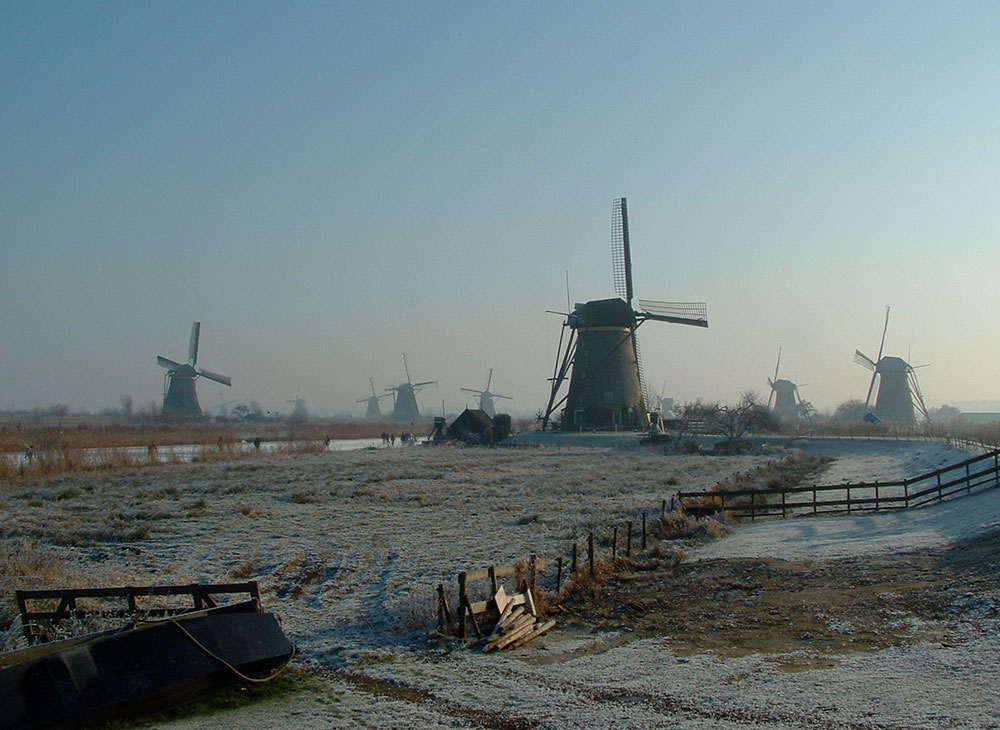 Photo above: Ice-skating on the canals between centuries old windmills at the "Kinderdijk."
After that time I was keen to expand my experience, resigning from Goldschmeding to become employed by H.Sierat in Hilversum.  Sierat himself being the managing director, tuned for the Amsterdam Concertgebouw Orchestra, Conservatorium and television studios.  His tuning standard was of the highest calibre and he was instrumental in refining my tuning skills to the same standard.  I was a valued employee and became responsible for some thirty Steinway grand and upright pianos for the television studios in Hilversum and numerous grands and uprights for the Music College as well as private clients.  After eight months of intense tuning, I gained tremendous experience but missed the variety of restoration work I had with Goldschmeding and consequently re-joined the firm.
I befriended a professional violin maker through the piano trade.  He taught me his fine craft during all my evenings, weekends and holidays.  There was unfortunately no opportunity for full-time employment in the violin trade in Holland.  I was offered full-time employment in the violin trade in Adelaide and migrated, only able to speak a little English.  Not long after, my employer closed his business and I became self-employed, continuing to this day violin and piano work.