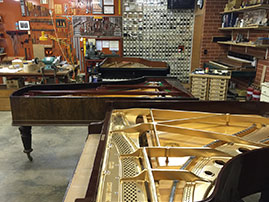 In the workshop of Guus van den Braak not only are small repairs done, but full restorations are also undertaken.  Wear develops on pivoting points, felt and leather parts in older and/or much played younger instruments.  Timely and regular servicing, lubricating and regulating of those parts will avoid early costly repairs or replacements.  The soundboard types, bridges and pinblock can survive for decades, but can also crack within a few short years if not properly cared for.  Repairs to soundboards or replacing soundboards, pinblocks and bridges, have been performed successfully many times by Guus van den Braak in Amsterdam, Holland and Adelaide, South Australia.
Guus van den Braak places top priority in returning the instrument to its formal and original condition!  When cloths, felts and parts are of a lower quality, and are worn or moth-eaten, improvements are made at the same time by replacing the parts, cloths and felts with the highest quality materials.  This results in a longer lasting, better performing and sounding instrument.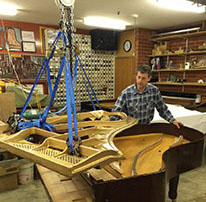 Photo right: After reconditioning the bridges, soundboard and cast iron frame, the frame is repainted gold and refitted into the piano.
Experience on its own means very little, but experience combined with superior knowledge, high skills and top quality craftsmanship, a first-class workshop set-up with excellent tools and equipment are a must when big restorations are undertaken.
Success is not a matter of luck.  It is earned and deserved as work is performed with passion and precision.  Whether you are a beginner, advanced or professional player, you can be assured you will receive the best service to suit your budget and piano.  You are always welcome to contact Guus van den Braak without any obligation.
Watch Stefan Ammer first play after restoration